Some 45 boats took part over the weekend for Horning Sailing Club's End of Season Regatta on 12/13 October, making it one of the best attended events of the season. Racing began Saturday afternoon on Hoveton Little Broad in light decreasing winds and overcast skies. With over thirty boats on the Broad, it certainly felt busy and competitors enjoyed making the most of the final weekend's racing. It was particularly encouraging to see a very strong dinghy turnout amongst both the (very mixed) Allcomers B and Allcomers C fleets, and also a good turnout amongst the Cruisers, which saw a number of Production Cruisers join in with racing.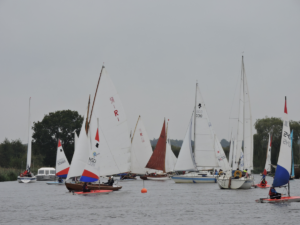 Sunday saw racing take place on the River and, despite an extremely unfavourable forecast, thankfully this did not seem to impact on turnout, with even more sailors participating in the day's events. Beginning with lights winds, these quickly built and it was very breezy by the afternoon, with just a handful of keelboats continuing to race into the final series, although the dinghies were not so easily deterred. It did, however provide exciting spectating, with numerous capsizes – and the lead Laser taking an unexpected detour into the pens opposite the Clubhouse, before recovering well to finish third during the final race.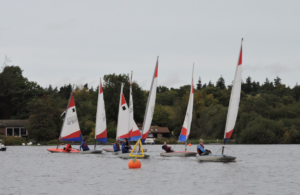 Top Reedling was Robert Hancock's Siskin, crewed by both Holly Hancock and Will Penny, with four wins over the weekend. Roger and Cari Hannant in Firefly were first Yeoman with three wins and a second, the final race won by Geoff Stubbs in Tara. In the Rebel Fleet first boat was Rebel helmed by Kim West/Simon Moore with three wins, Lucky Rebel helmed by Gary Wright/Alex Humphries/Adrian Hammond was second, with just one less win. Competition was also tight in the Yare & Bures, with Clive Gardner (Hairstreak), Alastair Fields (Rosy Wave) and Alister Bourke (Nevada Blue) all taking a win each, with two further wins from Ali in Nevada Blue, crewed by both Jamie Logsdon and Angela Childerhouse, being enough to secure the weekend overall. Twenty dinghies competed in the Allcomers B and C fleets. In Allcomers B there was particularly close competition between Ellie Edward's Splash and James Galloway's Laser, who counted three wins each. Eventually the series went to Ellie, although strong competition also came from Edward Wildman (Laser), Toby Pearce (Laser) and Jack Copping/Thomas Wildman (Enterprise). The Toppers were also extremely close, with a particularly fierce battle between Hamish Harmer and Abbey Penny. However, ultimately Hamish's three wins as opposed to Abbey's two was for him enough to win the series overall. The Production Cruisers were won by Brian Baker with two wins, whilst the Sailing Cruisers were won by Peter and Mandi Goshawk in Swallow. Whilst the boats raced in fleets, there were also overall trophies on handicap for the best performances over the weekend, which went to Siskin, Firefly and James Galloway's Laser respectively.