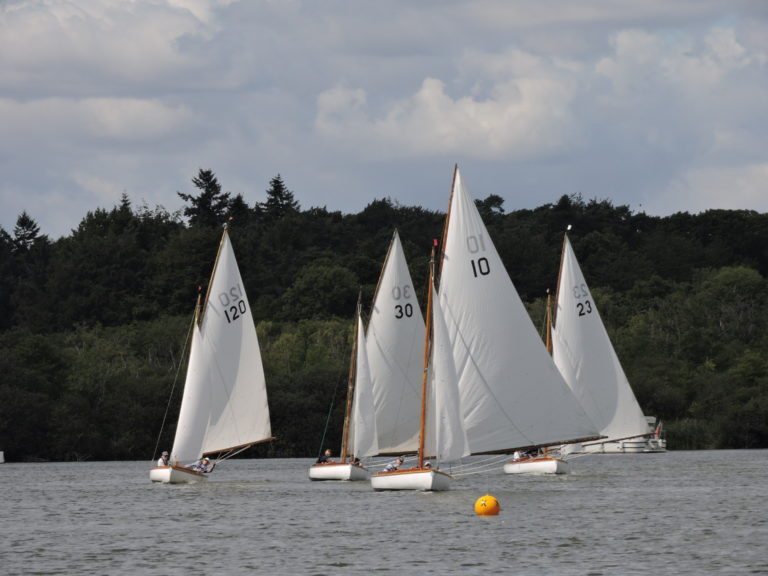 Whilst Horning Sailing Club's annual Regatta Week has not been able to go ahead due to the Covid-19 pandemic, over the weekend Club members enjoyed a scaled back Regatta Weekend held on Hoveton Little Broad. For many members, it was their first time racing this year – and with a perfect breeze and sailing conditions it was the ideal opportunity to ease back into activity. First on the water on Saturday afternoon were the Cruiser fleet, followed by the Yare & Bure One Designs, then the Yeomans and dinghies. Sunday saw the addition of both Reedlings and Rebels, and a 180 degree wind shift just prior to the final series necessitating a very swift change of course.
It was encouraging to see seven cruisers participating over the weekend, some even decked out with bunting for the occasion. First over the water on Saturday was Peter Goshawk's newly acquired Grayling, moving to third on handicap, with Mo Pritchard's Fritillary first, followed by George Brewis's Amantani. Sunday morning's race saw a win by Phil Montague in Pickle, Amantani second and Mike Reilly's Cygnet third. The afternoon's race saw Cygnet lead from start to finish, although on handicap came second to Pickle, with Amantani third.
The Reedlings were won by Derek Jones sailing Merlin over Kevin Saunders in Cockatrice, with Kevin Edwards achieving a similar feat over Kim West and Mia McKean in Rebel. The Yare & Bures saw Ron Jackson take his first win of the weekend in Holly Blue, with the remaining three races going to Mark Harris in Blue Wings. The eight-strong Yeoman fleet also saw good competition, with Roger Hannant in Firefly taking three out of four wins. In Sunday's lunchtime race his decision to go to the port side of the course paid off, extending his lead significantly. The last race of the series went to Geoff Stubbs in Tara, who also counted two second places. With Paul Clarke in Two C Sons also receiving a second place, competition for third was intense, with Brian Baker in Tiger Moth taking third in the first race, and Andrew Gallant in Aquamarine third in the remaining races. The Allcomers B and C were small numbers but hotly contended, with Ellie Edwards sailing her Splash, and fierce competition between the evenly matched Toppers of Abbey Penny and William Woolston. Eventually three wins went to Abbey, with the last race to William.
Results:
Saturday
Series 1:
Cruisers (5):
Fritillary (Mo Pritchard/Alice Page)
Amantani (George Brewis/Jo Brewis)
Grayling (Peter Goshawk/Mandi Goshawk)
Yare & Bure One Design (4):
Holly Blue (Ron Jackson/Julia Bower)
Blue Wings (Mark Harris/Robert Harris)
Rosy Wave (Alastair Fields/Kevin Blackwell)
Yeomans (6):
Firefly (Roger Hannant/Cari Hannant)
Tara (Geoff Stubbs/Michael Stubbs)
Tiger Moth (Brian Baker/Gordon Crook)
Allcomers B (1):
Splash 2040 (Ellie Edwards)
Allcomers C (2):
Topper 20588 (Abbey Penny)
Topper 42575 (William Woolston)
Series 2:
Yare & Bure One Designs (4):
Blue Wings
Holly Blue
Rosy Wave
Yeomans (6):
Firefly
Tara
Aquamarine (Andrew Gallant/Brett Martin)
Allcomers B (1):
Splash 2040
Allcomers C (2):
Topper 20588
Topper 42575
Sunday
Series 3:
Cruisers (7):
Pickle (Phil Montague)
Amantani
Cygnet (Mike Reilly/Sally Reilly)
Reedlings (2):
Merlin (Derek Jones/Mo Jones)
Cockatrice (Kevin Saunders/Marianne Saunders)
Rebels (2):
Rebel Maid (Kevin Edwards/Pippa Edwards/Ellie Edwards)
Rebel (Kim West/Mia McKean/Grace McKean/George McKean)
Yare & Bure One Designs (5):
Blue Wings
Holly Blue
Rosy Wave
Yeomans (8):
Firefly
Two C Sons (Paul Clarke/Robert Cole)
Aquamarine
Allcomers B (1):
Splash 2040
Allcomers C (2):
Topper 20588
Topper 42575
Series 4:
Cruisers (7):
Pickle
Cygnet
Amantani
Rebels (2):
Rebel Maid
Rebel (Mia McKean/Kim West)
Yare & Bure One Design (5):
Blue Wings
Holly Blue
Rosy Wave
Yeomans (8):
Tara
Firefly
Aquamarine
Allcomers B (1):
Splash 2040
Allcomers C (2):
Topper 42575
Topper 20588