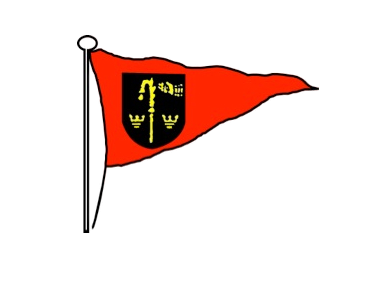 Hi everyone,
We hope that you've had a good week – it was great to see such a good turnout on Sunday again – and what a glorious day it was to be on the water! Once again, we had a very strong dinghy fleet racing, which was great to see – you can read the full report here: https://horning-sailing.club/news/club-racing-sunday-18th-april-2021/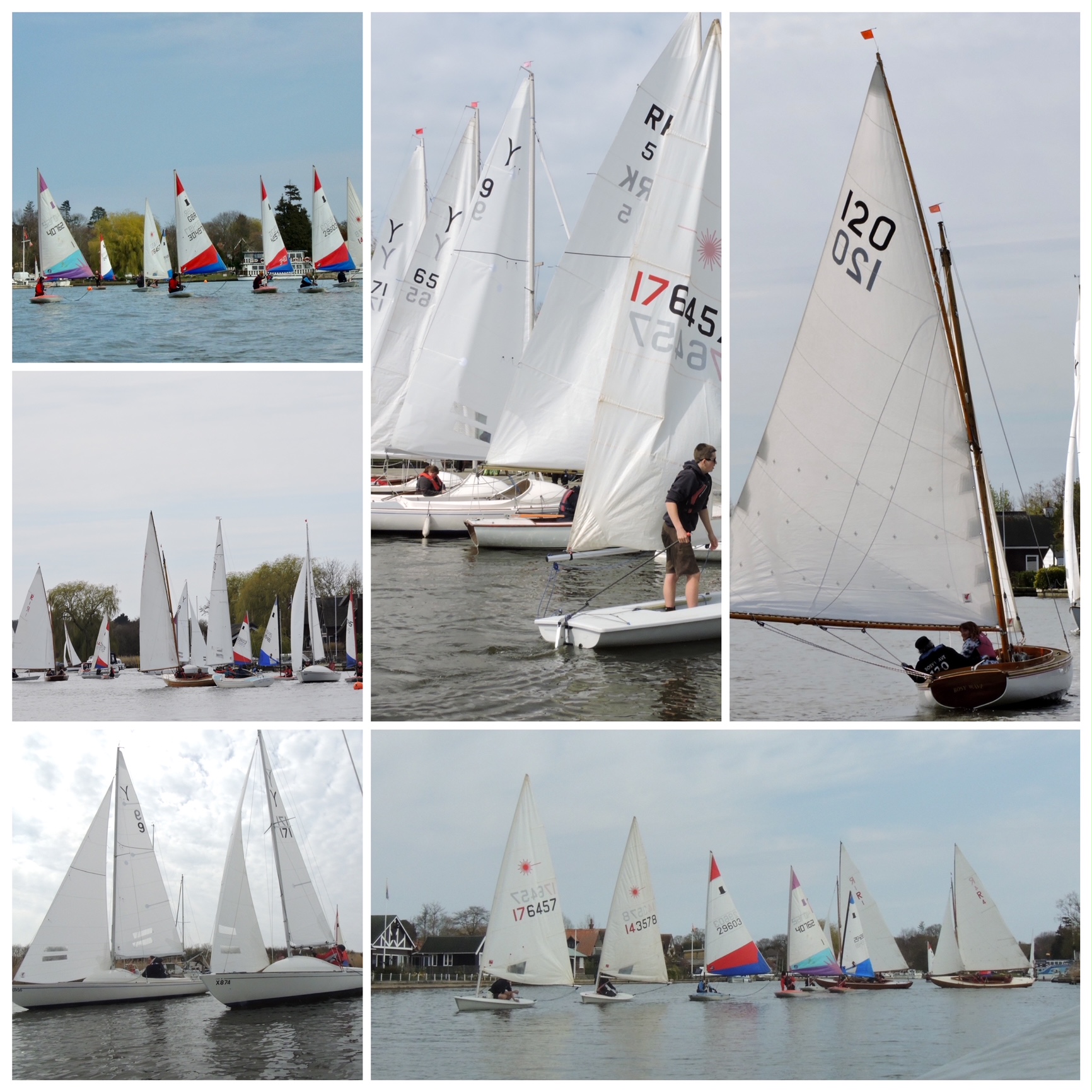 This weekend's activities
We have a very busy weekend coming up, with a Pursuit race on Saturday afternoon, Spring social (online) on Saturday evening and Club racing continuing on the River on Sunday. A reminder that the Club's Risk Assessments and Method Statement can be found in the downloads section of the website.
Pursuit Race - All members are welcome to take part in the Pursuit race - if you've not taken part in one before, it means that the slowest boats (e.g. Toppers) start first and the fastest boats last. It works on the basis of your start time being worked out on your class's handicap – and, in theory, all the boats should finish at the same time – of course, in reality, this doesn't happen, but it is a great fun race. Please be at the Sailing Club by 1.30pm Saturday if you'd like to take part.
This will be followed by our Spring Social, which, although sadly cannot take place in person, will instead be one of our popular Film Archive nights, with everyone welcome. Join us at 7.30pm to watch film of years gone by at Horning, and chat with your friends!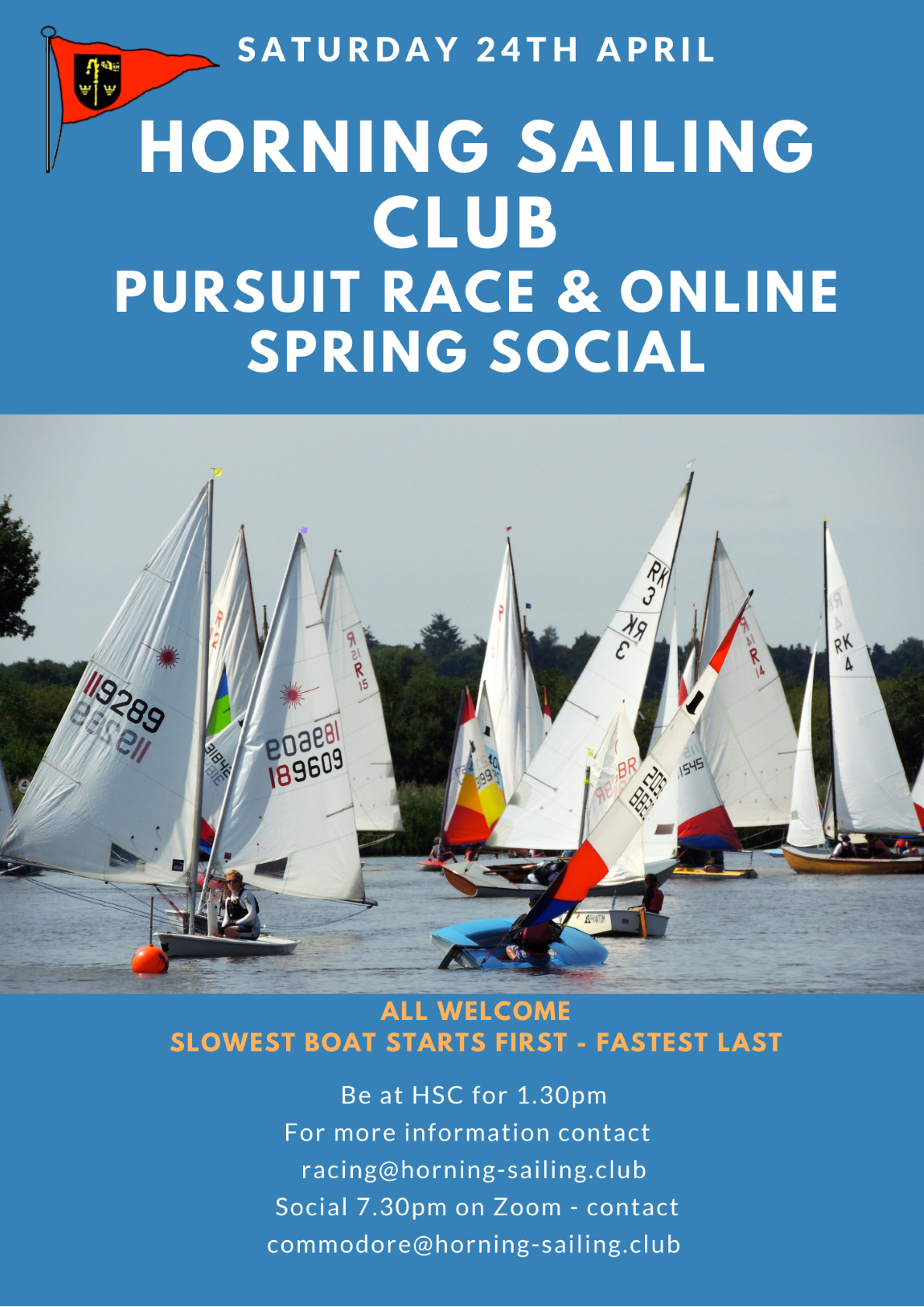 On Sunday, Club racing will continue on the River. The Programme is as follows:
Series 1 - Recommend 45 minute race (Cruisers longer)
10.30 Reedlings
10.35 Rebels
10.40 Yeomans
10.45 Yare & Bures
10.50 Juniors & Allcomers "B & C" (e.g. Toppers/Lasers/Splashes)
11.00 Cruisers
Series 2 – Start 11.30 earliest (ideally 11.45)
**.** Reedlings
**.** Rebels
**.** Yeomans
**.** Yare & Bures
**.** Juniors & Allcomers "B & C"
13.00 Allcomers Crews & Practice Race – Approximately 20 minute race (all welcome)
Series 3 - Recommend 45 minute race (Cruisers longer)
14.00 Reedlings
14.05 Rebels
14.10 Yeomans
14.15 Yare & Bures
14.20 Juniors & Allcomers "B & C"
14.30 Cruisers
Series 4
**.** Reedlings / Yeomans
**.** Rebels / Yare & Bures
**.** Juniors & Allcomers "B & C"
**.** The series will start at a time determined by the OOD.
Starts will be separated by a 5 minute interval.
Dinghies - Please remember to moor in Swan Dyke between races (not on the front of the Clubhouse). It has been so good to see everyone on the water, let's continue to enjoy our sailing and be courteous to each other on the water.
Toilets - Unfortunately, we have an issue with the club toilets at the moment, which we are trying to resolve – but it may mean that the public toilets need to be used this weekend – we apologise for any inconvenience caused.
Food and Drink – The Galley will be open for refreshments but please remember to consume food and drink whilst seated. Please also bring cash/coins for the Galley where possible, to reduce the need to give change and handle coins.
Work parties have continued to make good progress at the Club, with improvements to the walkways; the fuel containers, sheds and starter's box repainted; along with much more. A huge thank you to everyone who has continued to work so hard to make the club look smart and keeps it maintained. Work parties will be continuing over the coming weeks, so if you can help with any of these, please contact Will on vice-commodore@horning-sailing.club.
Training/Three Rivers Race/Taster Days - Lots has been happening behind the scenes, with plans well underway for the start of training and the Three Rivers Race, plus much more. As you may have realised, unfortunately our planned Taster Day on Saturday 1st May (which would have been the Horning Boat Show) had to be postponed until later in the year due to COVID-19 restrictions. This is currently scheduled for Saturday 10th July. We are also hoping to host taster sessions on a smaller scale – so if you know of someone who would like to try sailing, please encourage them to get in touch – trainingcentre@horning-sailing.club
Exciting News! We are planning to start our informal Paddleboarding Nights from Monday 24th May. These are expected to be popular; however, as they will be subject to the 'Rule of 30', booking will be essential. For further information please contact Holly.
See you all soon!
Holly – commodore@horning-sailing.club
Will – vice-commodore@horning-sailing.club