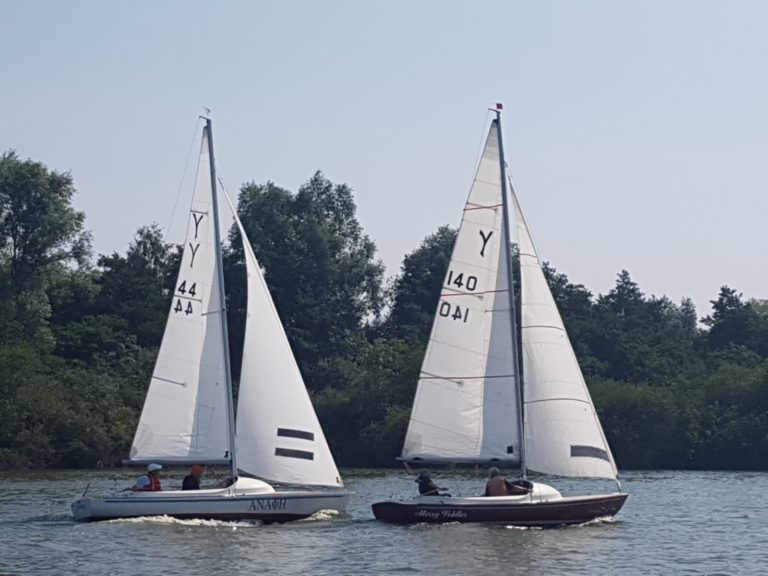 It was a small but determined group that took to the water on Sunday, sailing in glorious conditions. Although the morning began dull and overcast, the clouds quickly parted to provide warm sunshine, blue skies and a pleasant breeze on Hoveton Little Broad. The morning saw the Reedlings and Yare & Bures race, whilst the afternoon saw the turn of the Yeomans.
With a steadier wind direction during the morning's races, the line had a port bias, with an unexpected lift down the entrance side of the Broad paying off for those who took that route. The first Yare & Bure One Design race was won by Ali Bourke sailing Nevada Blue, with Ron Jackson in Holly Blue winning the second.
For the afternoon's racing the sea breeze had kicked in, and the boats tended to prefer a starboard start. Both races were won by Roger Hannant in Firefly, with Geoff Stubbs in Tara second.
Results:
Reedlings (1):
Race 1:
Merlin (Derek Jones/Mo Jones)
YBODS (3):
Race 1:
Nevada Blue (Ali Bourke/Abi Tassie)
Holly Blue (Ron Jackson/Julia Bower)
Rosy Wave (Alastair Fields/Kevin Blackwell)
Race 2:
Holly Blue
Nevada Blue
Rosy Wave
Yeomans (4):
Race 1:
Firefly (Roger Hannant/Cari Hannant)
Tara (Geoff Stubbs/Mike Stubbs)
Anaoih (Roger Pettit/Adrian Tooke)
Race 2:
Firefly
Tara
Anaoih